An organic hair salon
Located in Trumansburg, NY Location
61 East main street
Trumansburg NY 14886
---
Call
---
Hours
Monday-Friday: 9am-5pm
Saturday: 9am-5pm
---
Email
emma@fresh-organic-hair.com
Fresh is a full-service salon featuring organic hair-care products and ammonia-free mineral-based hair coloring. All our products are people-safe and environmentally friendly. We only purchase from companies that use safe — but effective! — ingredients and that ship with recyclable and/or compostable packaging.
At Fresh we've created an environment that nurtures your hair and skin and soothes your spirit. Our friendly stylists are caring and fun, and are always happy to discuss your unique needs and concerns. We want you to be comfortable while you're here.
Our aim is for every client to leave feeling rejuvenated, happy, and beautiful.
Emma Morris
Emma Morris, a Trumansburg native, began her training in 2006 at the Aveda Institute in NYC. She then worked under seasoned and well-known stylist Kim Sherwood.
In 2010, Morris created Fresh; today she continues to perfect her trade -- only happy clients step out of Emma's chair!
Emma's desire to start a "green salon" was her inspiration for utilizing natural products that are safe for her clients herself and the environment . She carefully selected companies that only shipped with recyclable or compostable packaging materials And used safe and effective ingredients
Emma and her staff all attended an original mineral color certification program in NYC in 2015 where they were trained in the use of there new Australian based, mineral color line. the results of this product have been phenomenal.
Please call 607-387-6882 to schedule an appointment today!
---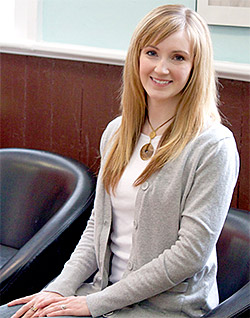 Deanna Trippett
Deanna Trippett is overjoyed to be working at Fresh Salon. She studied Cosmetology at the Oliver Finley Academy in Idaho and was first licensed there in 2006.
Originally a West Coaster, Deanna has worked as a professional stylist across the U.S. She continues to improve her skills by attending hairstyle seminars and hands-on classes. Her passion for a more organic lifestyle recently compelled her to start her own business making organic lotions, balms and household products. Trippett says Fresh, a place where she can share her organic knowledge and apply "fresh" styling techniques, is a perfect fit for her.
Indigo Kane
Indigo Kane graduated from Anousheh school of beauty and continues to learn and practice all the most current techniques and styles.
Indigo has a natural ability to cut and color hair and her attention to detail and precision are exemplified with every client she works with. Indigo is extremely friendly, open minded and happy to engage with every client that sits in her chair.
You are sure to have a pleasant experience with her and a great end result with your hairstyle.
Regular Hairstyling
Single-process color (whole head)
$7500
Little Kid's Cut
$1000–$1500
Formal Hairstyling
Fresh Facials


Organic skin treatment using exclusively intelligent-nutrient products that are 100% organic, vegan and cruelty free.



Facial Wax
Special Events
Second-floor lounge – with food
$27500
Second-floor lounge – no food
$15000